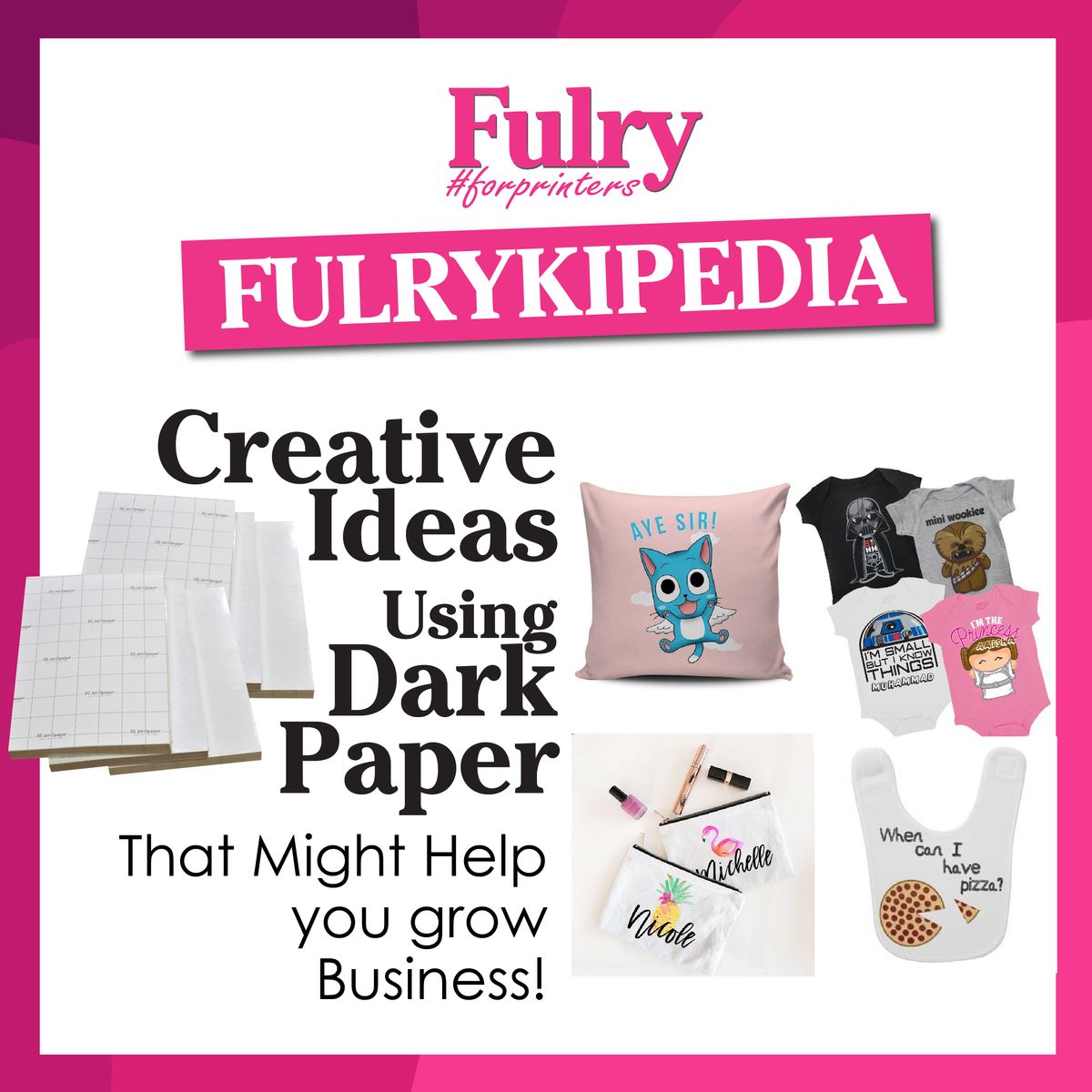 HAI FULRYIANS! WELCOME BACK TO FULRYKIPEDIA!

Selain baju orang dewasa, korang tahu tak sebenarnya banyak lagi korang boleh explore dengan Dark Paper?






Jom kita tengok IDEA yang boleh anda guna pakai menggunakan Dark Paper :

) Sarung Bantal
Untuk korang atau customer korang yang sukakan customization item boleh try print atas sarung bantal, customize gifts are so trending now!

) Pouch Bag / School Bag
Haaaa yang ini sesuai untuk parents yang risau dekat taska ada ramai kids, so korang boleh label nama cantik cantik! Kalau bukan untuk diri
sendiri, untuk customer pun mesti ramai yang nak!

) Barangan kanak-kanak
Untuk parents yang hantar anak mereka ke taska/tadika, korang boleh label nama mereka untuk memudahkan kerja ibu bapa dan instead of label, boleh design cartoon yang comel comel sebab dark paper ni kan boleh print apa sahaja janji korang creative! daan, lepasni tak ada la salah baju anak orang lain sebab dah label nama. Selain baju, korang boleh print atas bib bayi, seluar, headband, hoodies, dan banyak lagi! Yang pasti kena cotton ya!

) Tote bag (canvas & cotton)
Tote bag juga antara product yang high demand, instead of baju korang boleh pelbagaikan pilihan product yang korang cetak sekarang.
Ya, dark paper boleh di transfer ke atas tote bag! Janji creative, ikut trend, boleh jalan business!
Jangan lupa guys, Dark paper boleh digunakan bersama Fulry Ink, dan pastinya korang takkan menyesal. Korang yang belum try Fulry Ink memang kena try!
Bukan boleh print dark paper je ya, banyak lagi yang boleh korang print menggunakan Fulry Ink ini.
Sekian, Jumpa lagi di topik lain!