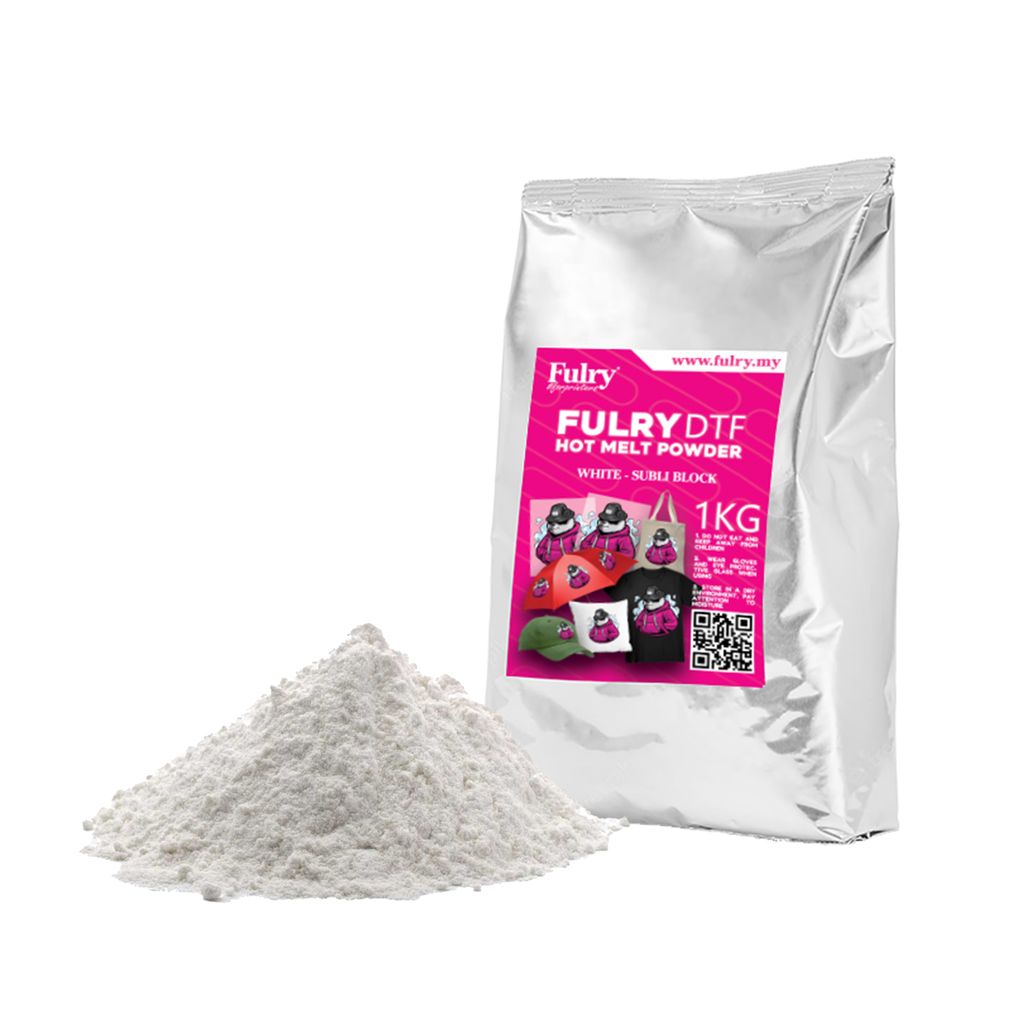 NEW
Fulry DTF Hot Melt Powder (Subli Block) - 1kg per pack
Fulry DTF Hot Melt Powder (Subli Block)
DTF Hot Melt Powder is an adhesive powder act as a bridge to combine your printing output with your products. Thus, it is a very important product to determine how well your printing output stick on your products for a period of time.
Fulry DTF Hot Melt Powder (Subli Block) is certainly a WOW product to the market. This Subli Block version powder is an advance version from traditional hot melt powder. This product is specially designed for those who encounter difficulty when getting DTF film pressing on material like polyester or polyester-blend fabric. The dye colours from the fabric may penetrate into DTF printing output after press. Thus, Fulry Subli Block powder can prevent the dye colour of fabric to migrate together with your DTF printing output. This can make your printing output always having a true and striking colour consistently on any colour of fabric.
Product Features:
- Subli Block feature. Ensure consistent true and striking colour.
- Small-Medium powder. Suitable for all size of design especially small design.
- Good washability. More than 80 washes.
- Breathable feel for the output. Joint well between printing output and fabric.
- Powder do not stick on other film surface but only on ink surface. Thus, do not require to apply more shakes on film to remove excess powder.
- Do not left excess glue around the printing output.
Specifications:
- Packaging Size: 1kg per pack
- Colour: White - Powder Size: 80 - 170 μm. Small-Medium.
- Melting Point: 130 Celsius
- Transfer Temperature: 150 Celsius
- Transfer Time: 20 sec
- Bonding Pressure: Medium-High
Cure setting before press:
For Heat Press Machine: Hover 150 Celsius for 3 minutes. Gap between your printing output and heat press machine shall within 2cm.
For Oven: Use baking tray. Do not use wire rack. 130 Celsius for 1 minute. Setting may varies depend on the inner room size of your oven.
Customer comments
| Author/Date | Rating | Comment |
| --- | --- | --- |